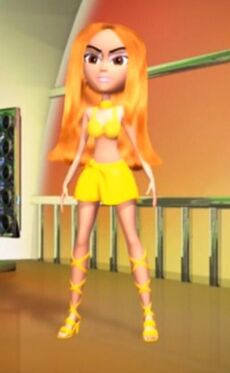 Aloncé is a famous sensation pop singer who stars in her own music videos and live concerts. She first appeared in the "Sasha's Big Interview" episode when Sasha wanted Aloncé to be on the Magazine before the Tweevils tried to post her on their magazine first, she put on her civilian disguise, so the fans would not recognize her. But when she ran next to Sasha outside to the public bench, Sasha sees the crescent moon tattoo on the back Aloncé's hand, and discovered it was actually her. And now, Aloncé's picture is on the cover of Bratz Magazine.
Biography
She is a very successful singer who has two platinum CDs and grammys. The Bratz met her (in the TV show) when she came to Stilesville to shoot her new video. Aloncé is idolised by Sasha. She is voiced by Cree Summer Francks, but her singing voice is by Lauren Evans. Aloncé is in the episode "Sasha's Big Interview". Aloncé doesn't like people telling her what to do, and she can be a diva. Aloncé was on the cover of Bratz magazine.
Physical Appearance
Aloncé has lightly tanned skin. There is a tattoo of a crescent moon on her hand She has long, straight ginger hair extensions, but her eyebrows are black. Aloncé's eyes are brown, and she wears pink and white eyeshadow with pink lipstick. Aloncé was seen wearing a yellow bikini top, yellow mini skirt and yellow strappy heeled sandals in her "My Attitude" music video and photo shoot. Casually, she wears a purple t-shirt, black shiny pants and white and blue sneakers. Her accessories for her casual outfit are a purple and white hat, and sunglasses.
Gallery
Trivia
Aloncé is a parody of Beyoncé.
Burdine didn't know who Aloncé was and thought her name made her sound like a "four door sedan".
Aloncé's songs are "Everything", "My Attitude" and "Shining Like Real Diamondz".