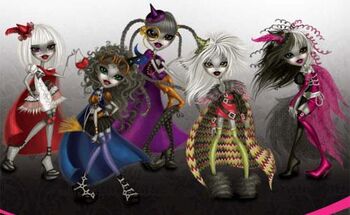 "Glam gets wicked." - Slogan
Bratzillaz are a spin-off of MGA's popular franchise Bratz. However, unlike the original Bratz, these girls are witches with their own unique special powers. It is revealed in the music video that they are the cousins of the Bratz and each main character shares a similar name to the original Bratz characters.
Dolls
Each doll has glass eyes with an articulated, posable body and has a personal witch mark symbol. The dolls come with a broom, hairbrush, doll stand, and spell scroll. Each has a unique pet, sold separately. Character cards also come with each doll. They reveal Augmented Reality content when held up to a webcam: virtual doll animation and character video.
Characters
Yasmina - Yasmina Clairvoya has the power to see the future, so, her witchmark is an Egyptian eye. She loves vintage romantic looks, retro style and funky braided hair. With her spellbinding style and oddball pet, Winkers, she stands out as a unique individual.
Meygana - Meygana Broomstix not only has the power to fly, but also to make dreams come true. She loves all shades of blue sky, late night parties, cloud hopping, fluttery capes and helping people's wildest dreams take flight! Her witchmark is a pair of wings which not only matches her power to fly but her favorite pet, Winzgy's power too.
Cloetta - Cloetta Spelletta and her mixed up cat/dog pet, Barkthalameow, have the power to change people into anything they want! She adores two-tone fashions, over-the-knee boots, sparkly capes and hair that goes straight...and curly! Her witchmark is the moon & stars. withcy spell-Create a new me,now rearrange,bratzcadabra,give me the power to change.
Sashabella - Sashabella Paws has the animal kingdom under her spell. The tribal cat is her witchmark because she can communicate with creatures everywhere! Her favorite animal to talk to is her pet furball, Fluffinscruff. Which is why she loves wearing faux fur and fuzzy boots.
Jade - Jade J'Adore has the power to help people find your their true love. That is why her witchmark is a heart arrow. She loves everything about love! With her devilish pet love monster, Kissifuss by her side, she also has the power to heal a broken heart. She loves punky glam looks, luxurious lace, mysterious eyes and hearts on everything.Jade J'Adore shares the same first name as her cousin.
Webisodes
In Aug. 18 there was made a webisode of the bratzillaz. The Official website is: http://www.bratzillaz.com. There you can find all the information about Bratzillaz girls.